Portable Hand Wash Station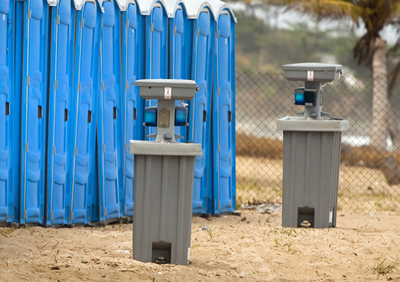 A portable hand wash station is a mobile unit with running water and a soap dispenser. Therefore, it offers users a place to clean their hands be it in a party or formal event. These portable units can either be single or multi-person. A single unit has only one tap for an individual user, whereas a multi-person station has several fully equipped taps and running water. Users also get several models to choose from, which is an added advantage.
Some of the common types include hand sanitizer dispensers, which best serve small events without food. These can be placed next to major buildings or health facilities that lack fixed stations. On the other hand, fully equipped stations serve super-large events that involve eating and consumption of alcohol. Other stations also come in the form of construction sinks which best suit construction sites, regardless of the size.
Here are some of the features that you can expect:
Size
These units are compact and can, therefore, serve a range of settings. They mostly have a width of twenty inches and a roughly similar depth. They are quite long, with a height of 20 inches. Keep in mind that this is the size of the single standard unit mobile handwashing station. The holding tank capacity is also quite generous, taking into account that these units are relatively small. They allow 250-350 uses since the tanks measure 50-20 gallons.
Running water
These are hand washing stations, meaning that users get ever-running water. The stations have fully functional taps, which can be easily opened and closed for easier usability. Some also have wide sinks where users can comfortably clean their hands.
Hand sanitizer/soap
To kill different bacteria and viruses, these units have hand sanitizer or soap stations. Therefore, users can apply sanitizers or soap when cleaning their hands to get the job done. You can also choose to get the units minus the sanitizers if you have your own.
Several models
There are several models of handwashing stations that users can choose. Therefore, depending on your intentions, you can acquire a hand sanitizer dispenser, multi-faucet sink, or durable construction sinks. These models also differ depending on the number of intended users. You can choose the single user station, with only none tap or the multi-person station with several taps. Make sure that you consider the number of users and intended usage before getting one.
Standard features
Even though these stations have different models, there are some standard features. Some of these include soap dispensers, running water, and holding tanks.
Events
Portable handwashing stations can serve many events. Some of the most common include construction sites where foremen and inspectors need to clean themselves after work. They can also be used in festivals with food. Remember, having clean hands is a necessity, especially if food and alcohol are involved.
It is also advisable that you have a portable hand wash station in a fair to give attendees a cha ce to clean their hands. Therefore, remember to contact us if you need a handwashing station or porta-potty services around Dallas.