Deluxe porta potty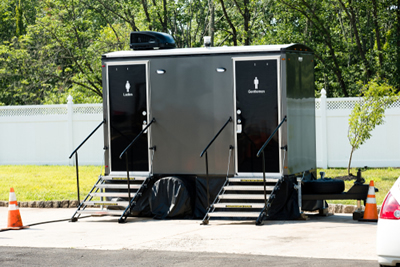 Wondering how to provide the best treatment for your guests while sticking to a low budget? Deluxe porta potties are the way to go! These units are affordable but more luxurious than standard porta potties.
Deluxe portable potties are closely related to the standard porta potties but improved. They are bigger, more spacious, and come with more features than the standard portable potties. They are designed for renters on a budget who don't want to compromise on comfort. These units are flushable and come with a handwashing station or a sink and some hand sanitizer or washing soap. These units also come with a urinal and shelving to place your stuff.
Deluxe portable potties are suitable for many events, especially those that involve food and require sanitation. Spare your guests the struggle of sweating standard porta potters when they can experience home toilets like comfort. These units can also be paired with standard units for convenience. They can also be custom made with extra features such as mirrors, handwashing stations, and anything the client may need to ensure maximum comfort for the guests.
It can be challenging to choose a porta potty when you don't know what to look for. Here are some vital considerations.
Size
These units should generally be bigger than standard units. The size should provide for comfortable use for all adults. The inside should also be spacious for added comfort. Our deluxe units are constructed in a perfect design to accommodate all users. They are also sizeable enough to be moved around during the event, if necessary.
Extras
These units should come with additional features, unlike the standard porta potties. First, they must be flushable to keep clean with a water tank that allows the unit to be used for several hours. The portable potties should also come with a sink or handwashing area to maintain sanitation. A hand sanitizer dispenser should be provided if the client wants one.
These units should also be designed with a hook or interior shelf where one can place their stuff for comfort. The porta potties also come with a urinal. The portable potty should also come with extra-wide ventilation to remove odors and keep the porta potty smelling good.
Safety
These units should be designed with non-slip floors to avoid accidents from skidding and falling. They should also be well lit to facilitate comfortable use at any time of the event. The doors should be wide enough and labeled appropriately for privacy. The construction of the unit should also be solid to offer safety. Stabilizing stakes for high wind areas are an added advantage.
Dallas
Dallas is a city in Texas. It is the largest city in Dallas County and the 9th most populated city in the USA. Dallas is quite a popular city. If you are looking for affordable but quality deluxe portable potties around this city, we got you! Contact us today!