The Dallas World Aquarium
Dallas offers all its visitors a wide variety of tourist attractions that will suit their needs and tastes, you can get parks, squares, museums, and many more places perfect for you to have an amazing family vacation. This is one of the largest cities in Texas, so we assure you that you'll always find something to do.
One of the mandatory stops in the city of Dallas is The Dallas World Aquarium, a zoo, and aquarium that helps protect and conserve many endangered animals. It was opened in 1992 and has since functioned as a recreation center for educational and awareness-raising purposes.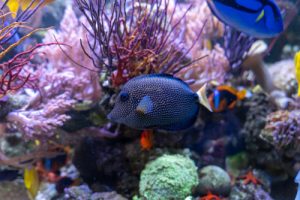 This appeal is often amazing if you go with children, they will be able to know more about animals, their way of life, which are endangered, and why they are. They will also be able to feed the manatees and penguins, we recommend that you search the page for the right time for them to take one of the best places.
Address, schedules, and prices
The Dallas World Aquarium is located in 1801 North Griffin St. Dallas, inside a warehouse that was renovated to this end in the West End historic district. Is open every day except Thanksgiving and Christmas. Your schedule is from 10:00 am – 4:00 pm.
The ticket price is:
Adult – $26.95 + Taxes
Child – $18.95 + Taxes (3 to 12)
Child – Free (2 years or younger)
Senior – $22.95 + Taxes (65+)
Available exhibitions
The Dallas World Aquarium is home to a lot of animals and marine life, many of which are endangered but you'll also find Orinoco crocodiles, manta rays, piranhas, and more. Visitors can also encounter sloths, river feeders, manatees, penguins, and other mammals.
The zoo and aquarium have two levels, where each of them is adapted for the type of animal you will find, below we talk to you a little about them:
Upper level: it was adapted to be an artificial reproduction of the Orinoco Forest, you will find inside an aviary where birds fly freely, among them are toucans and scarlet ibis; Within the rainforest, you can see the exhibition of sloths and Antillean manatees, also others such as vampire bats, electric eels, poisonous frogs and Orinoco crocodiles.
Lower Level: On the contrary, this level is just an aquarium, you will see anemones, jellyfish, corals, and different aquatic animals from all over the world. Among the main countries exhibited are the Bahamas, Japan, Australia, Solomon Island, and others. You will also be able to see one of the main attractions that are a large tank that has a tunnel where visitors can enter and observe from there all the marine life swimming around it.
5 reasons why you should include The Dallas World Aquarium in your vacation
Mayan World Exhibition: they present you with an exhibition of plants and animals that were part of the Maya folklore generation, plus 400,000 gallons full of sea turtles and a wide range of sharks.
Orinoco Exhibition: Full of great biodiversity different from the one you will see anywhere.
The perfect place for family fun: there are few places like this where your child will have fun, learn and enjoy like this.
Learning from the start: this is an area for your soul and heart to work, no matter if you come alone, with friends or your family, everyone will love it.
Nearby attractions: if you finish visiting the museum and want to know more, you can get a lot to do in its surroundings.
---